See What's Trending In The Trucking and Commercial Transportation Industry
Screen your drivers, reduce the risk
Monday, November 12, 2018 Charlie Charalambous
By John G. Smith | Editor: Today's Trucking
Posted: October 18, 2018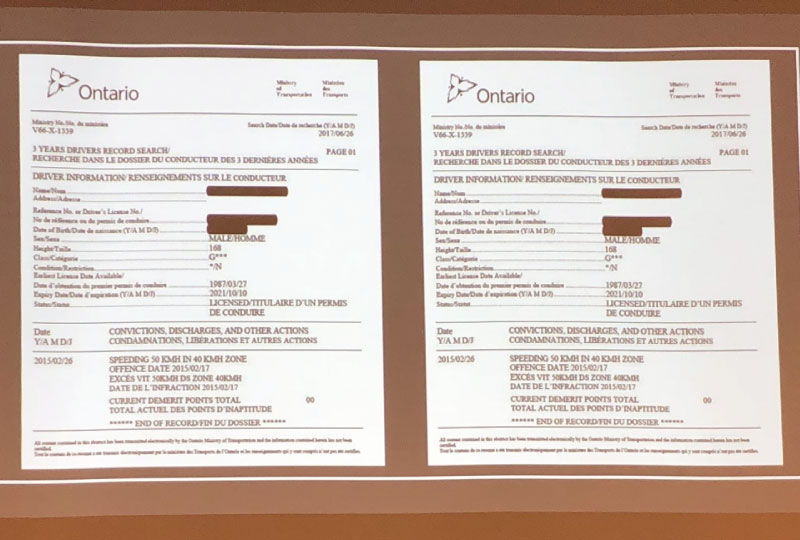 One of these abstracts is a counterfeit. Can you spot the difference?

MILTON, Ont. – Charlie Charalambous of ISB Canada flashed two seemingly identical truck driver abstracts onto a screen and challenged his audience to spot the difference. It was impossible to distinguish the documents except for a single spelling mistake – found on the counterfeit abstract he created using nothing more than Microsoft Word.
It demonstrates how easily vital recruiting documents can be faked by would-be applicants, he told fleet managers attending a Private Motor Truck Council of Canada (PMTC) seminar. "You don't need to be a designer to recreate something." And he cited sources with the Guarantee and Aviva Insurance who confirm that fraudulent documents are in the system.
Properly qualifying drivers – and confirming that true documents are used – can help mitigate the risks relating to cargo theft, fraud and safety, said the company's director of client services.
Considering the source of any documents will help. While most recruiters will ask job candidates to provide an abstract, Charalambous recommends they order another copy as a test, ensuring that job candidates are being truthful in their early interactions.
"Verify their records are from an accredited training facility," he added. "Make sure those other courses are from an accredited training facility as well."
So, too, should fleets hold staff accountable for getting the documents that are required, he said, stressing the need to offer personnel the tools for the job or the authority collect information directly from a given source. Performance reviews and audits can help to ensure that process is followed.
Hiring the wrong driver can have disastrous consequences, of course. "Hiring an unqualified driver is a safety risk to your fleet," he said, citing the example of those who are prone to distracted driving. Three out of four Canadians now admit to distracted driving, according to the Insurance Bureau of Canada. Through his time in the insurance industry, he knows that distracted drivers are 23 times more likely than their peers to be involved in a crash.
The costs of their collisions certainly extend beyond bent metal. "Fleets, they're driving billboards," he told the fleet managers. "Do you really want your brand and company name associated with that?"
Knowing more about the job candidates – both drivers and others — can help to mitigate the risk of thefts, too.
As of Aug. 15, there were 318 cargo thefts in Canada, and 167 of those were from the Peel Region alone, Charalambous said. "A high percentage of these are inside jobs."
Not all criminal background checks are created equally, however. Records from the Canadian Police Information Center can be 18 months out of date, he said, stressing the value of premium criminal background checks available through services such as the PMTC Driver Qualification System.
He also makes the case for screening personalities when recruiting. "There are tests out there that can get to the core of the driver, what their DNA is like … better you know upfront than find out after the fact."
Requalification procedures can be valuable when it comes to existing drivers as well.
"Requalify them against your original criteria," Charalambous said. "It's easy to make excuses for drivers once you know them. I'm not saying get rid of them, but requalify them and provide them with the training they need."
Source: https://www.todaystrucking.com/screen-your-drivers-reduce-the-risk-charalambous/