See What's Trending In The Insurance Services Industry
Insurance Fraud Bureau Releases Details of 'crash for cash' UK Hotspots
Tuesday, September 18, 2012 Admin
The Insurance Fraud Bureau has released a report detailing hotspots across the UK notorious for 'crash for cash' car insurance scams. In light of these statistics, sales manager John Edwards advises motorists how to avoid being unwillingly involved in staged road accidents.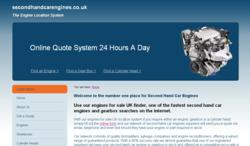 Second Hand Car Engines
Crash for cash scams affect us all says John Edwards of Second Hand Car Engines
(PRWEB) September 14, 2012
The Insurance Fraud Bureau has released statistics from the second quarter of 2011 revealing 20 areas across the UK that are blighted by illegal 'crash for cash' activities, and for the sixth consecutive time, Birmingham holds the top stop with Sheffield close second and Manchester in third place.
'Crash for cash scams affect us all,' says John Edwards, Sales Manager of Second Hand Car Engines, suppliers of components and second hand engines across the UK. 'Whether you've been unlucky enough to have been involved in one of the staged accidents or not, your insurance premiums are still increased as the insurance industry has to cope with the losses involved.'
The Insurance Fraud Bureau analysed 128 million insurance records to produce the figures that had led to the formation of 29 live organised insurance fraud operations with 17 different police forces to reduce the fraudulent industry estimated to worth £59.5 million with new operations being formed to target newer affected areas. The IFB operations have resulted in 119 criminal convictions and over 486 arrests to date.
'This type of crime is increasingly common,' says second hand car engines supplier, John Edwards. 'In a highly publicised case in July this year, two southern men were sentenced after deliberately staging hundreds of road traffic accidents allowing them to make fraudulent insurance claims worth more than 6.5 million pounds.'
The highly publicised case in question involved Masi Naqshbandi, 27 of London and Saboon Hillaman, 24, of Middlesex, who submitted over 250 fraudulent insurance claims via their own 'accident management company' Real Accident Helpline between 2007 and 2008.
Car Insurance company Aviva was first to alert the Insurance Fraud Bureau after receiving a series of almost identical claims from Real Accident Helpline, after vehicles were deliberately damaged or crashed to mimic a standard road traffic accident. In other claims from Real Accident Helpline, accidents were completely fictitious and consisted entirely of fake names and details. In all of the cases cited, inflated damage costs, personal injury and credit hire meant each claim from the Real Accident Helpline was worth tens of thousands of pounds.
'Although the Real Accident Helpline scam was committed in the London area, it is worth bearing in mind that it was a massive operation,' says John Edwards of Second Hand Car Engines. 'Here in the North of England, there are smaller operations practising on the roads today and as drivers we all need to be alert and vigilant until such a time when the IFB and local constabulary are able to prevent them.'
'The insurance industry is fighting back and fraudsters will be caught and prosecuted no matter how big or complex their scam may be,' said IFB Director Phil Bird, reflecting on the sentencing of the two men. 'Fraud is not a victimless crime. As honest policyholders, we all pick up the bill for fraudsters like Naqshbandi and Hillaman. Around £50 is added to every insurance premium to cover the cost of fraud. The IFB has received nearly 9,000 reports of fraud through Cheatline in the last couple of years, a clear indication that honest policyholders are no longer willing to pick up the bill for fraudsters.'
'Aviva takes insurance fraud very seriously,' says Tom Gardiner, Head of Loss Prevention. 'We work in a co-ordinated manner with the wider market and key agencies such as the IFB to share information on suspected fraudulent activity. We also have a range of sophisticated controls to detect opportunist and organised fraud, including dedicated teams which are currently investigating over 200 motor fraud rings. The message is clear: if you commit fraud, the chances are you will be identified and prosecuted.'
'In light of these latest reports of crash for cash hotspots from the IFB, I'm urging all drivers to be extra vigilant on our roads regardless of whether they're driving in a high risk area or not,' says Second Hand Car Engines sales manager, John Edwards, supplier of second hand car engines across the UK. 'In some cases these scams involve innocent motorists who are deliberately driven into, forcing a crash so that an exaggerated claim can be made.'
'You can avoid being involved in incidents like this by always paying attention and anticipating hazards, adhering to safe distances from surrounding vehicles, and paying special attention to tailgaters,' advises John Edwards, online supplier of used car engines and components. 'If you feel threatened by a vehicle behind you, my advice is to pull over safely and let them pass.'
'I'd also advise motorists to pay attention to local and regional news stories to stay informed of criminal activity within their area,' says used car engines stockist, John Edwards 'and if you're unlucky enough to be involved in a collision and you suspect that it could be part of a crash for cash scam, don't make reference to it at the scene. If it is safe to do so, take photographs of the accident scene and call the police if you think the situation is threatening or is likely to become inflamed. Stay as calm as you can whilst you swap details with the other drivers involved and take notes where possible.'
'Crash for cash scams are costing the insurance industry millions of pounds. Collisions are stressful and emotionally draining but it's important to be prepared in case you are involved with one,' says Simon Elstow, Head of Training from IAM Drive & Survive. 'Despite high profile sentencing for these scams in the past, they're still happening.'
'The police and Insurance Fraud Bureau are doing all they can to combat these crash for cash scams,' says John Edwards, who provides used car engines and second hand engines across the country. 'But until they are completely eliminated, we as motorists must remain vigilant and alert whilst we use the UK roads. This is the advice I'll be cascading to my website customers who purchase second hand engines and components online.'