See What's Trending In The Background Check Industry
Validating Identity in the Digital Age
Monday, January 29, 2018 Sarah Baldeo
In 2018, it seems fraud is more prevalent than ever before. In some ways, the overwhelming and continuous prominence of the digitalization of data can perhaps be blamed for this. While we continue to adapt and implement technology, the protection of data collection becomes more of a concern. Data, as we may all collectively agree, is the most valuable commodity and thus the most likely to be stolen.
With the increase of remote work and non-traditional labour roles, some employers may never even meet their employees/contractors in person. Given this increasing reality, proving identity is more important than ever. When someone provides his or her ID, how can you be sure it is not stolen?
Electronic Identity Verification (EIV) is one current form of ID validation, but may not always be the answer. Enforcement agencies in Canada are aware that EIV has certain limitations. Due to its dependency on credit-related questions, certain demographics may be excluded if an applicant does not have sufficient credit history.
A new method of validating identity may be available soon – virtual validating identity, through real-time video. Technology companies are refining and testing facial recognition software but have yet to publish their findings on its success rates and potential implications for privacy/compliance.
As the screening industry moves further into digitalization and integration with, one thing is certain – things are changing quickly!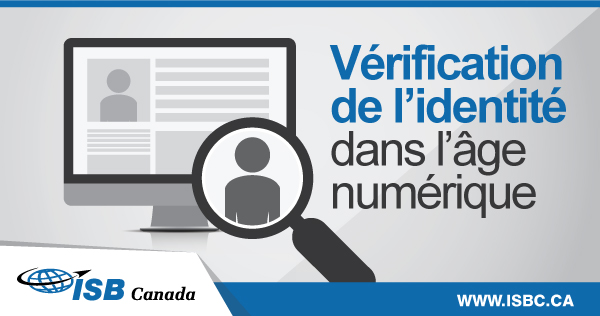 Vérification de l'identité dans l'âge numérique
En 2018, la fraude semble plus répandue que jamais auparavant. À certains égards, la prédominance écrasante et continue de la numérisation des données y est probablement attribuable. Tout en continuant à s'adapter à la technologie et à la mettre en œuvre, la protection de la collecte des données devient une plus grande préoccupation. Nous sommes probablement tous d'accord que les données sont le bien le plus précieux, et donc, le plus susceptible d'être volé.
Avec l'accroissement du travail à distance et des rôles de travail non traditionnel, il est possible que certains employeurs ne rencontrent jamais leurs employés ou entrepreneurs en personne. En raison de cette nouvelle réalité, vérifier l'identité est plus important que jamais. Lorsqu'une personne fournit sa pièce d'identité, comment pouvez-vous être certain qu'elle n'est pas volée?
La vérification électronique de l'identité (VEI) est une méthode actuelle pour confirmer l'identité, mais elle n'est pas toujours la solution. Les organismes de l'application de la loi au Canada sont conscients que la vérification électronique de l'identité a certaines limites. En raison de sa dépendance à des questions relatives au crédit, certains groupes démographiques peuvent être exclus si le demandeur ou la demandeuse n'a pas suffisamment d'antécédents de crédit.
Une nouvelle méthode de vérification de l'identité peut être disponible prochainement – la vérification virtuelle de l'identité par l'entremise d'une vidéo en temps réel. Les entreprises de technologie sont en train de mettre au point et d'éprouver un logiciel de reconnaissance faciale, mais elles n'ont pas encore publié leurs conclusions quant à son taux de réussite et aux éventuelles répercussions sur la vie privée et la conformité.
À mesure que l'industrie des vérifications avance dans la numérisation et dans sa mise en œuvre, une chose est certaine – les choses évoluent rapidement!